Why Can't We Just "Make It Nice" Anymore?
I recently read an article in Bloomerang, a floral marketing strategy, that asked, "Why Can't We  Just "Make It Nice" Anymore? I was enthralled by the question because so many of our customer ask us to do just that!
The Bloomerang article said, in part, when the Internet came along it completely changed the expectations of our customers by showing images of what can be expected. Now you can't just "make it nice" anymore, you have to make it "look like the picture".
But that's boring…and we don't do boring!
Real professional floral designers don't have to use pictures!
More often than not I hear, Oh gee, Tina, just ask Pamela to "make it nice" or "work her magic"! At the holidays (especially Christmas and Mother's Day) I often suggest a "Pamela Vase" to a customer knowing the design will be beautiful and unique. At Valentine's Day our customers choose roses, roses or roses, and often in a pretty red vase that we choose when we work our magic for you!
For Thanksgiving, we often suggest my favorite of all floral arrangements, the Cornucopia. Why is that my favorite? I guess I'm an old sentimentalist, and the Horn of Plenty is the traditional centerpiece for Thanksgiving!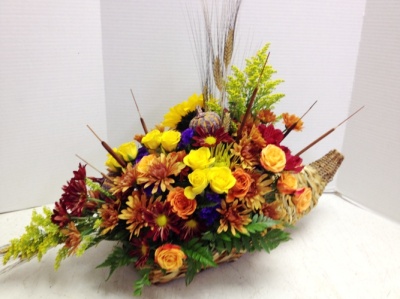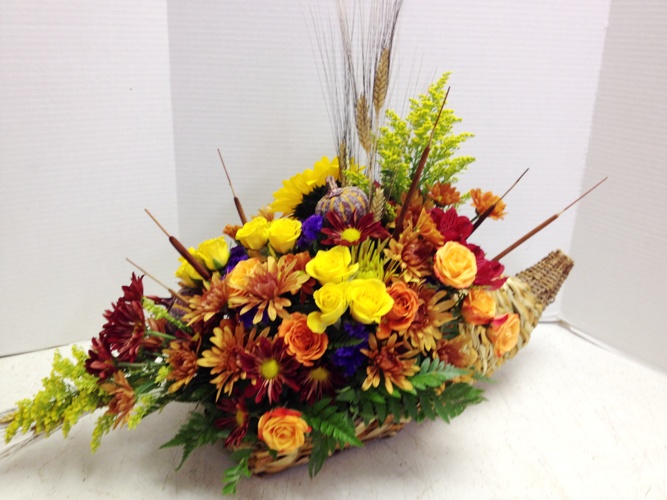 And although you can visit our website and order a Cornucopia, you'll find if you pick up the phone and call me at 602-246-1271 we can indeed "make it nice" and your Cornucopia will be the talk of your Thanksgiving table!
It's not too early to order your Thanksgiving florals.  We offer many on our website and yes, you can call and ask us to just "make it nice"! From centerpieces to cubes, we love to "make it nice" for you!
Thanksgiving Cheer                               Rhymes with Orange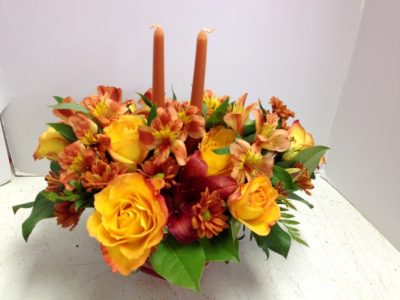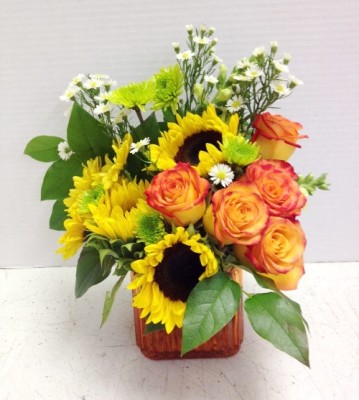 Beautiful Autumn Centerpiece          Soft and Bright Autumn Cube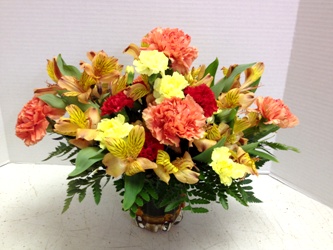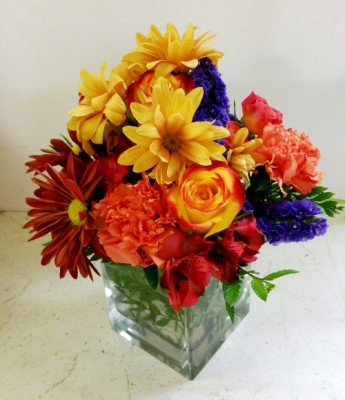 Our customers (that's you!) know when you order from Roadrunner Florist , whether in person, by phone or online, you are going to be sending a truly "make it nice" floral arrangement that's personally designed just for you!
Being the exception to the "rule" written by Bloomerang makes us very happy!
We know that we can Make It Nice just for you!
We look forward to hearing from you soon!
Pamela and Tina
602-246-1271
Making it Nice for you!