It's all the Rage!
Have you noticed: It's all the Rage!  It seems like "farm" or "country" or "wild" is what's a'happin' in design this year! What does that mean for you? Among other things, its an admission (finally) that flowers are an integral part of design and good health!
A study at Harvard recently stated:
With people's desire for tranquility and stress relief stronger than ever, fresh research takes an insightful look at flowers and the important role they may play in our daily lives. A behavioral research study conducted by Nancy Etcoff, Ph.D., of Massachusetts General Hospital and Harvard Medical School, reveals that people feel more compassionate toward others, have less worry and anxiety, and feel less depressed when fresh cut flowers are present in the home.
"Other research has proven that flowers make people happy when they receive them," Etcoff says. "What we didn't know is that spending a few days with flowers in the home can affect a wide variety of feelings."
It's no secret to us that flowers brighten the day! We're glad people are finally getting the message, and we thank the old-fashioned-new-designers who have brought flowers back into the limelight!
If you're thinking of remodeling your home, and you're considering the farm look, then you must admit flowers are not far away! From trendy Kansas Sunflowers to Lovely Lucille, fresh flowers will brighten your home in way you've never considered!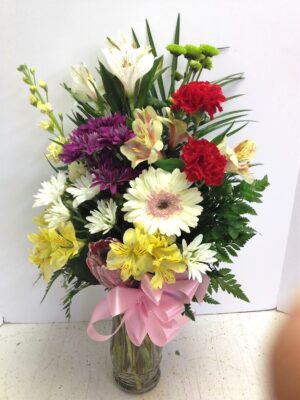 Trendy designers like Joanne Gaines are showcasing their favorite parts of the country (in her case Texas) with the farm-style look that is catching on. Everything from kitchen sinks to cabinets, from flooring to poster beds, is heavy, rustic and accented with flowers!
Festive, unique arrangements such as our Lateral Beauty or Contemporary Sensation are perfect additions to the farm-style look.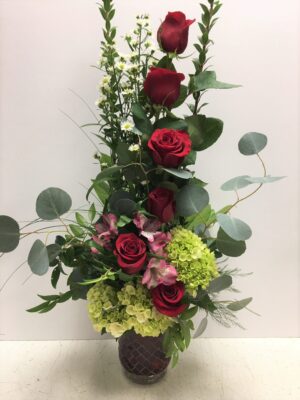 We hope you'll consider fresh flowers for your home every day! We enjoy them in our homes and we know you'll enjoy them, too!
Pamela and Tina
Roadrunner Florist
602-246-1271