On our website, Roadrunner Florist, you'll find a selection called "Let Pamela Choose" and a great picture of Pamela!
From here, if you should desire, you can order fresh flowers of HER choice, that we describe as follows:
"Similar to the style and flowers that she's holding, Pamela will choose from the freshest flowers that arrive daily at Roadrunner Florist! Colors and flowers  will vary depending on what arrives fresh daily.
"Each day we receive fresh flowers from around the world. Seasonal flowers, Hawaiian flowers, flowers from California, Michigan, Peru, Israel and more! The variety is ever changing, which makes our business unique and fun!
"Designing these stunning flowers in Pamela's forte'. She's a graduate of Michigan State University (Go Spartans!) Floriculture and she passes her expertise and knowledge to you!"
When you Let Pamela Choose, you'll be sending the most beautiful, fresh, seasonal floral arrangement possible. We'll deliver it for you (in the greater Phoenix area) and we'll make you look good!
I thought it might be fun to show you some of the arrangements Pamela designed recently for people who decided to leave the choice up to Pamela!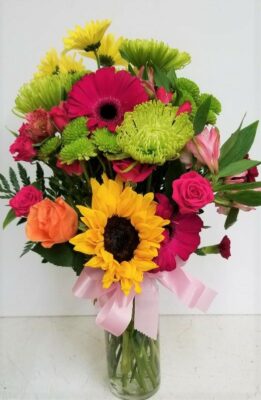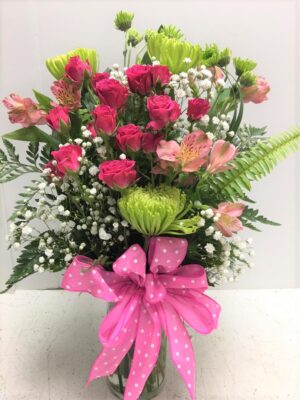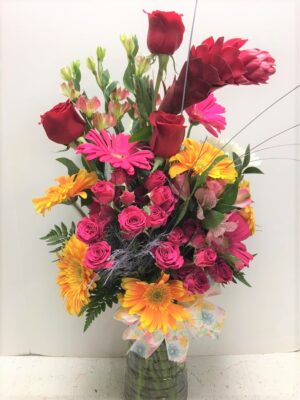 We were so happy to have Mustafa stop by the shop the other day. He found us on Yelp and then he posted this review about the flowers that Pamela designed for him.
"Found this amazing little shop on yelp. Stopped in to get some flowers for a friend that was retiring and they whipped together this amazing bouquet in 10 minutes."
It's people like Mustafa who make our business fun! We hope you remember that YOU make our business fun, too!
We look forward to hearing from you!
Happy 4th of July from Tina and Pamela
Roadrunner Florist, Phoenix, AZ