Would you like to have one of our beautiful designs named for you? We're always happy to do that! It's a great way to honor our customers and show the Internet world how special you are!
One of our best sellers is Marcia's Florals.  We call this Marcia's Florals because we designed this for a very special lady named Marcia. She works in the floral industry and she was in rehab after very serious surgery when we went to see her. Marcia had no flowers in her room, which was very sad, probably because people think florists don't like flowers! Please don't think that! Florists, who work with flowers every day, LOVE flowers or they wouldn't be in the industry!
We designed this beautiful tropical arrangement for the Arizona Biltmore hotel, and we're honored to give it that name. In case you don't know, the Biltmore is an Arizona landmark, which has offered world class dining, events and golf since 1929. You can read the history of this amazing hotel, including the Frank Lloyd Wright architecture, by visiting this website offered by the hotel.
This amazing floral arrangement is designed with Hawaiian flowers, which are delivered fresh to our shop 3 times a week. The assortment varies according to availability, but the arrangement will be similar in style to this one. The white roses make this arrangement "pop"!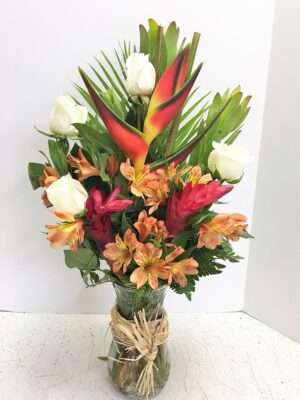 Theresa is a wonderful friend. We named this for her.  Flowers such as stunning hydrangea mixed with pink roses and spray roses, lavender stock and purple monte casino are custom designed just for you.  Tantalizing and stunning! Perfect for an anniversary, a birthday, a thank you or thinking of you, or that special lady for that special occasion.
Meet Tiffany! Tiffany is a pretty floral arrangement in bright, sunny colors. Flowers such as pink roses, yellow lilies, sunflowers, assorted carnations and more are tastefully designed into a fun arrangement that's perfect for a birthday, for an anniversary, for a job well done or if you're in love (which is the reason it was sent to Tiffany in the first place).
Named after the lucky recipient, Nora is a stunning mix of tropical flowers, Hawaiian flowers, Sunflowers and roses.  Shown with birds of paradise, our Hawaiian and tropical flowers arrive fresh once a week and the selection varies from season to season.
Named for one of the nicest ladies we know, Pretty Patti helped our friend celebrate her birthday in June.  Her husband John ordered "something Pretty for Patti with sunflowers" and this is the design Pamela created.  It's a dash of Tina's Favorite Stunning Beauty , which is definitely one of our best sellers, and the freshness of sunflowers to brighten up the day.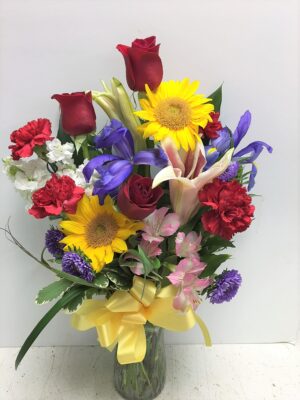 Let us design and deliver a floral arrangement named just for you!
Call Pamela or Tina
Roadrunner Florist
602-246-1271
www.roadrunnerflorist.com