October: Breast Cancer Awareness Month
As you know, October is Breast Cancer Awareness Month. I've asked several of my friends to share their Breast Cancer stories with us. I hope you will find them motivational and inspirational.. Here's the story from my friend Todd Behrens. You know about him, because he is the Lincoln Continental Salesman I'm always talking about!
I thank you, Todd, for telling this story.
"Our friend Tina Ashburn asked me to tell "My Story" of my wife Renee's Battle With Breast Cancer.
September 29, 2009 was a day that changed our lives.
A few days before, Renee' had a biopsy of her breast to see if what they saw on the mammogram was cancer.
On the 29th she was to go in for a consultation.  I went on to work and told her to call and let me know how it goes.
Before Renee' left the house the Dr had called her and said the diagnosis is cancer and she wanted both of us there.
Renee' called me crying with "The News".  I rushed home and picked her up.
It was a very nervous ride to the office.  It was like a slap in the face when sitting in front of the Dr. she says "There's no easy way to tell you…Renee'…your biopsy came back…you have breast cancer".
So then we discussed options and decided that lumpectomy was the way she should go.
The family was there for her surgery.
Renee' had radiation therapy and her oncologist prescribed a five year Tamoxifen therapy.
Luckily she did not require chemotherapy and the Tamoxifen seemed to work well, although it wasn't without side effects.
In February 2015, our daughter Erica organized a Celebration at Ajo Al's for Renee's Completion of her Tamoxifen Therapy with family and friends!
Although I do not personally have the cancer…it has affected me…as I walked with her in battle.
We both got through this with continued prayers and the Lord's help!
This is her 7th Year as a Breast Cancer Survivor.  We have not missed a year of being at the Komen Race For The Cure.
A LOT of grateful tears are shed at this event!  

We will be there AGAIN Sunday Morning 10/9/2016
So Proud Of My Wife Renee…
THE SURVIVOR!
Todd Behrens"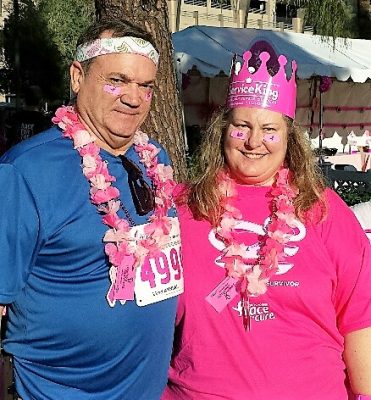 Share in the joy of recovery by sending
pink carnations
to a Breast Cancer Survivor this month!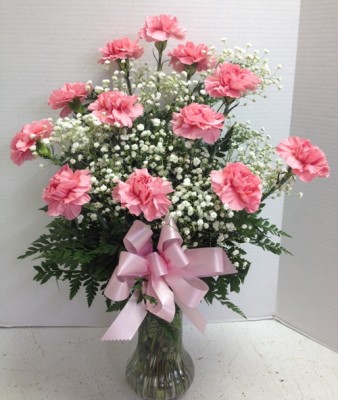 Do you have a story you'd like to share? We'd love to hear from you! Simply send an email to tina@giftbasketsbytina.com.  Help us share the love this month as we bring awareness to Breast Cancer.