Octogenarian
Many of our customers are asking us to deliver flowers to an octogenarian. What, you might ask, is that? It's a person who is between 80 and 89 years young!
That includes my mother, and maybe even yours!
Here we are, the 4 faces. And yes, you are welcome to post your generation faces here, too!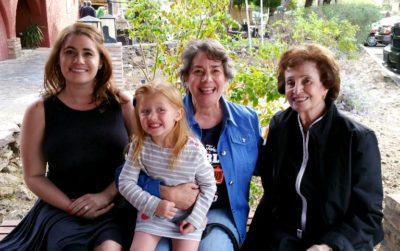 That's my mom on the right, my daughter Lauren on the left, and me holding my granddaughter Harper between us.
When flowers are chosen for a senior like my mom, the sender usually asks for something "bright and cheerful", which immediately leads us to think of sunflowers or other yellow flowers mixed flowers ! So here's one example of what we think is perfect for the senior citizen in your life!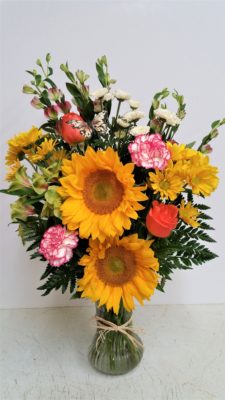 The Octogenarian by Roadrunner Florist. 
Do you need a reason to send flowers to your elder family member?  NO YOU DON'T!  I have an aunt who is 105 years old. I send flowers to her in San Mateo, California,  every 6 or 7 weeks! Then she calls me and says, "Thank you Dear" and "How is everyone?" and then she hangs up! But she knows I'm thinking about her!
Tell us your story!! Do you have an octogenarian in your life? Might be your mom or dad, aunt, uncle or grandparent. Might be a family friend.
When you send flowers to a senior, you brighten her day. Think about it! Order from Roadrunner Florist today!
We look forward to hearing from you!
Tina and Pamela
Roadrunner Florist
2007 W Bethany Home, Phoenix, AZ 85015
602-246-1271