Passover and Easter share a weekend this year for the first time in, gee, forever! There is little doubt that the holiday are intertwined in beliefs, but seldom in dates.  This year both are celebrated at the end of March and beginning of April.
Easter if April 1st.  It seems a bit early for Easter, so the reminder is timely: if you're sending Easter Baskets today is your day!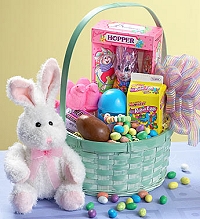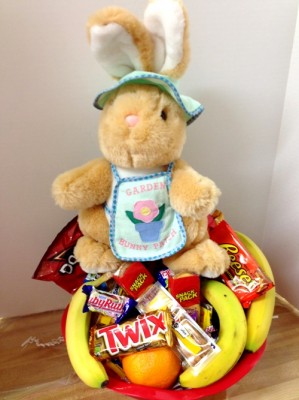 Easter Bunny Basket                Easter Bunny Fruit Basket 
Our Easter baskets can be designed for people of all ages. My friend Trudy, who is well in her 80's, called me the other day to order an Easter basket for an auction. She said the people are all "adults".  I designed a great basket for her, with an adult coloring book, pencils and crayons, a puzzle, eggs and a terrific bunny. She called me yesterday to say the basket went for more than twice what she had paid for it, and the little lady loved it!
Easter isn't just for children any more!
It is now politically correct to celebrate Easter and Passover as they were originally intended.
With all the yummy special food on a Passover table, it's a bit difficult to find place for a beautiful centerpiece amidst the Matzoh. We suggest a beautiful floral arrangement to sit on the serving table or coffee table.  Cheerful, spring colors are perfect for this reminder of freedom and a new beginning.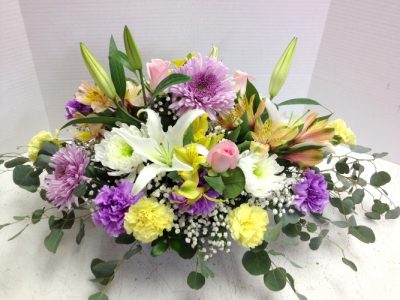 As you celebrate your holiday this spring, remember the purposes of Passover and Easter with family and friends. We wish you all the happiness spring can bring, and look forward to hearing from you soon!
Pamela and Tina
Roadrunner Florist
602-246-1271
www.roadrunnerflorist.com