People…People who need people… (one of my favorite of all songs) are the luckiest people in the world! Are you singing with me now? Can't you hear Barbra Streisand in your mind's ear? I sure can!
We are so fortunate that we get to meet real people, our customers who come into our shop and choose flowers from our coolers or ask us to custom design an arrangement for them.
Sometimes we have spoken on the phone several times and they finally have a change to stop by. Sometimes they're driving across town and see our marquee. Sometimes they're visiting one of the hospitals in the neighborhood and are looking for a real local flower shop. And sometimes they are yelping and find us on the Internet!
We love being able to take their pictures and then post them on our Facebook page! And we love posting them here for you to see!
One of the most interesting people we have met recently works on the new buildings being constructed by ASU in Downtown Phoenix. He is installing the air conditioning systems, and he didn't mind telling us that without him, we would be very hot indeed! He and his wife stopped by for flowers to take to an ailing friend in the hospital.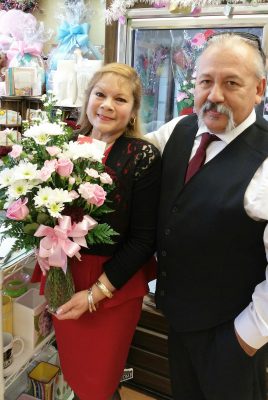 Meet Lisa. She used Yelp to find us today!  She stopped by to take flowers to her new boss!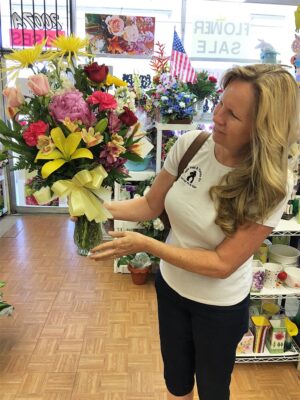 We'd like you to meet Shane. He and his wife were celebrating their wedding anniversary! When a dozen roses aren't enough, then choose 2 dozen!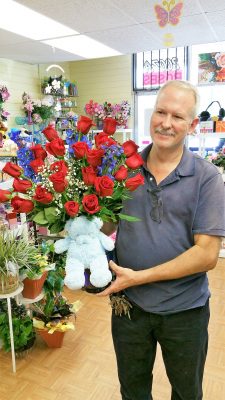 This is Pat. She stopped by to pick up flowers to take to her mother-in-law for her birthday!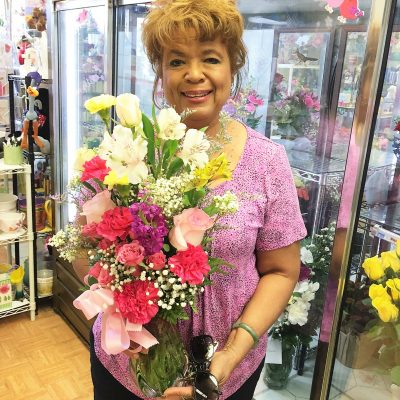 Stephanie brought her mom in to meet us. Stephanie is one of our favorite ladies, who is a great restaurant manager (now at the Sizzler on 51st Ave and Indian School) Her mom came in for her daughter's graduation (another great reason to order flowers!) and we were so excited to meet her!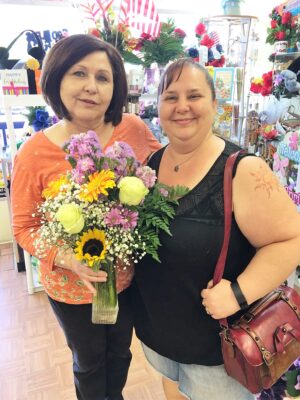 This is Nykita. Her grandmother loves yellow! In celebration of her 89th birthday, Nykita stopped by to pick up these beautiful flowers!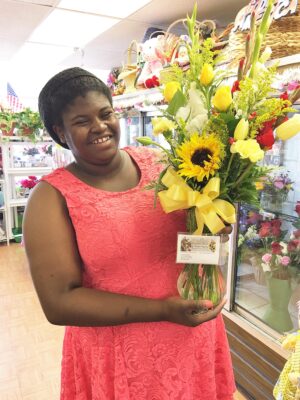 Meet Isaac and Alex. They stopped by from Russia! OK, not exactly, they were in New York and stopped by! Well, not really! They're from Russia, were visiting friends in New York, then traveled to Phoenix and were looking for a florist near one of the neighborhood care facilities. Isaac and Alex found us on Yelp! Those great Yelpers… we love'em!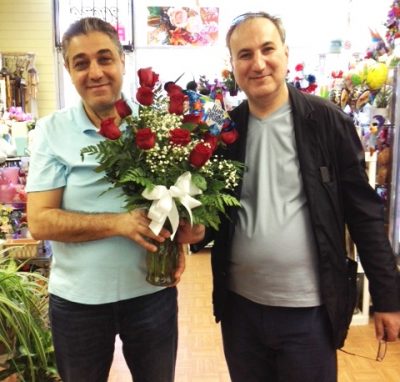 A baby shower is a happy occasion to enjoy flowers. This future grandmother knew the colors of the baby's room, and she knew the theme for the shower would be birdhouses. Here she is, beaming with pride, as she and her daughter picked up the centerpieces Pamela designed for the baby shower!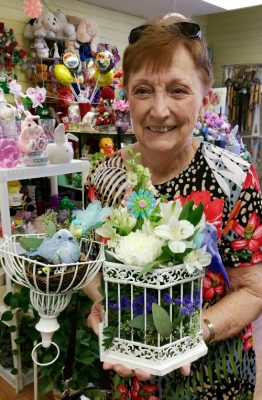 This is our youngest customer ever. I didn't get her name, but she and her mom recently stopped by to pick up flowers for their new home. This little girl is being raised right: she already knows how much fun it is to have flowers at home!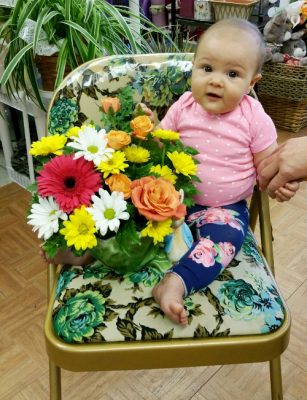 We invite you to stop by and visit us! We'll be happy to take your picture and add it to our Happy Customers Gallery! We look forward to meeting you!!
Tina & Pamela
2007 W Bethany Home, Phoenix, AZ 85015