Pick a Side!
I'll bet you thought this is a political statement, right? Well, it's not!! Sure, we love politics! We love talking about it! We love our customers like Valerie who are so politically motivated that we're 100% positive that she, and she alone, arranged for Mr. Donald Trump's recent visit to the Phoenix area! And we love talking about the other politicians, like Secretary of State Clinton (and certainly you read my blog about "secretaries") and Senator Bernie Sanders, as well as our own Senator John McCain.
Did you know we were guests of Senator John McCain in his Washington, D.C. office and the in the United States Senate in 2008? We had the opportunity to hear Sen. Edward "Ted" Kennedy speak on the senate floor about immigration (that was when he and Sen. McCain had a bi-partisan "plan").
Did you know Pamela and I had an audience with Senator Barry Goldwater shortly before his death? It was the election year of 1998 and all of the presidential-hopefuls were visiting him in the hospital. We came to visit him dressed as clowns! (Yes, Pamela and I dress up as Sweet Pea and Baby Cakes the Clowns). He told us we were MUCH MORE FUN than any of the politicians he had been "forced to see!"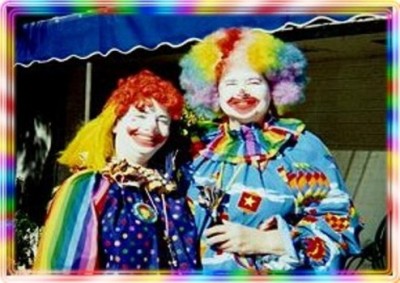 But we are a flower and gift basket shop, and unless you want to come in and talk politics, then our "side" has to do with flowers!  Got'cha!!
Today I thought I'd share the sides with you.
There are 2 schools of floral design thought. One is that you, as the customer, should see all of the flowers in an arrangement, and the other is that the flowers should be designed all the way around. There's no right or wrong! So we thought we'd show you the difference and then you can decide which one you prefer.
We must start with roses.  Roses are the #1 best way to say I Love You. They get you out of the dog house. They wish you the best for every occasion. They're prefect for a wedding anniversary. They're great for Mother's Day or a birthday. Actually, I can't think of a reason not to send a dozen red roses!
This is the way Pamela designs a dozen roses.  Stunning! You can see each rose! We love it! Do you?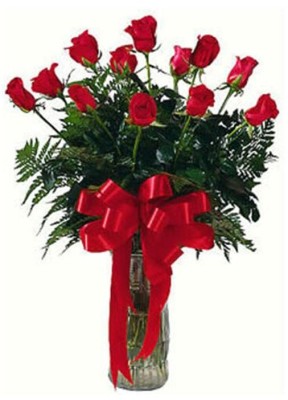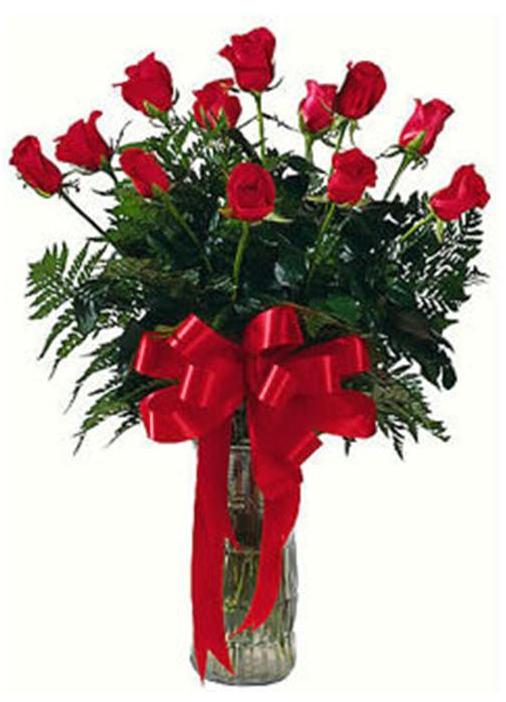 Maybe you prefer roses designed in a cube like these we call Butterfly Roses,
or our Pretty Soft Cube or our Butterfly Cube.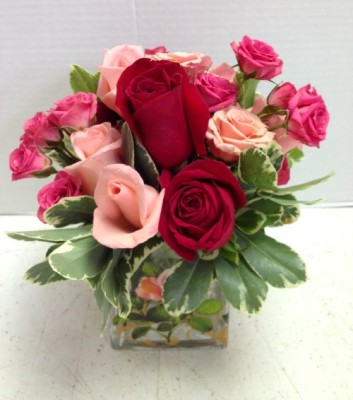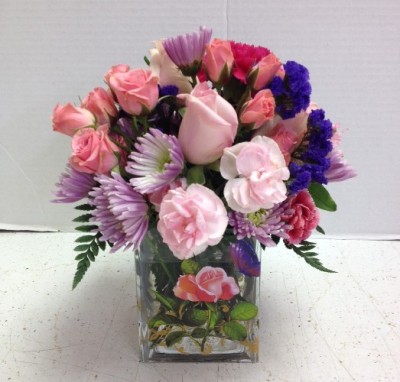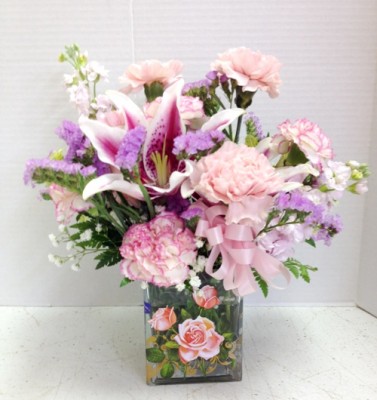 Here are some examples of all-the-way around floral arrangements. Can you tell they are the same arrangement from different angles?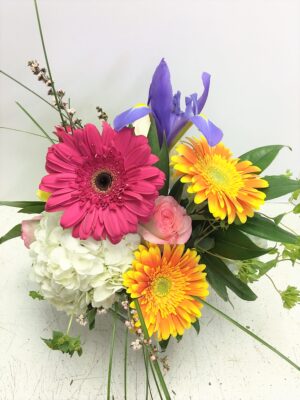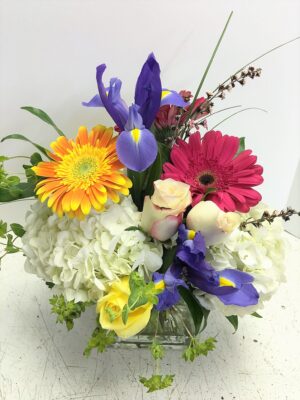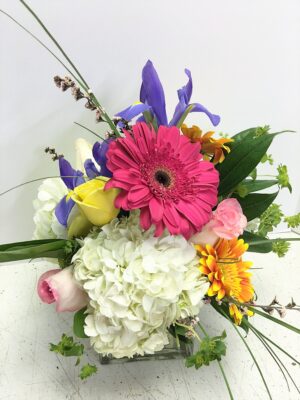 If the flowers are for a table, then yes, they need to be designed all the way around. Here's a small centerpiece we recently designed for a small, intimate party.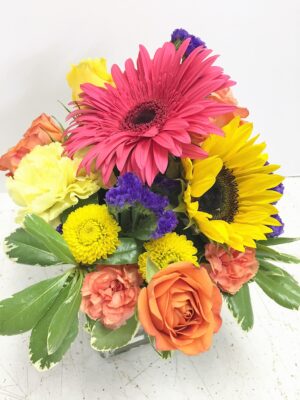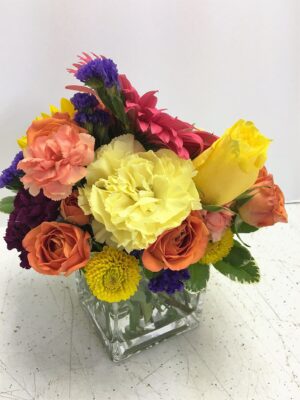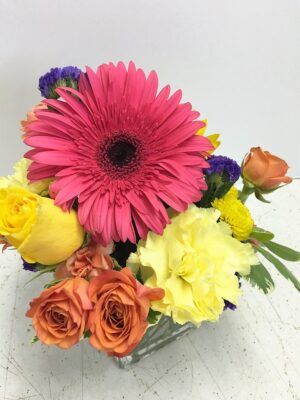 Our best seller is Marcia's Florals. Marcia is one of our friends who was in rehab and Pamela designed these garden-style flowers for her. We took them over to the rehab cheer her up! I wrote about the etiquette of sending flowers to a patient in a hospital or rehab here. As you can see, every flower has a face (in this case a happy face) in this unique, one-sided floral arrangement by Pamela.  Another example of a one-sided arrangement we call Special Occasion Flowers  which people seem to love because you can see all of the flowers at one time.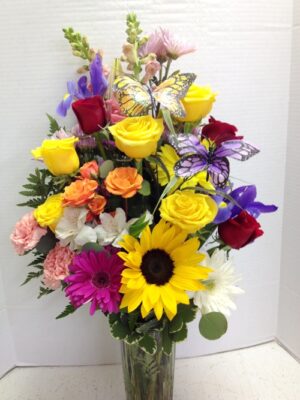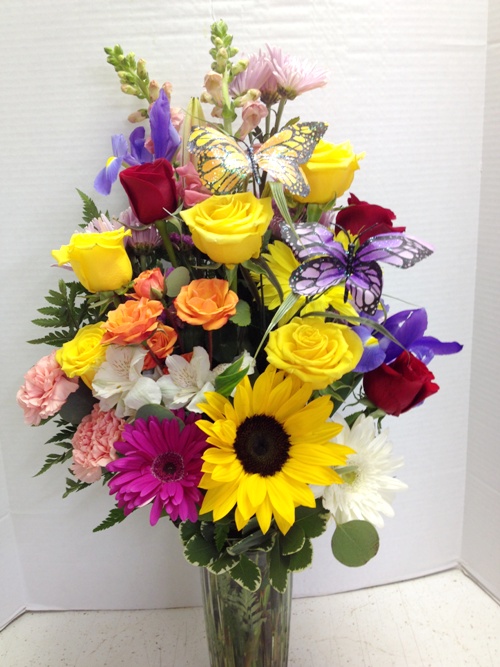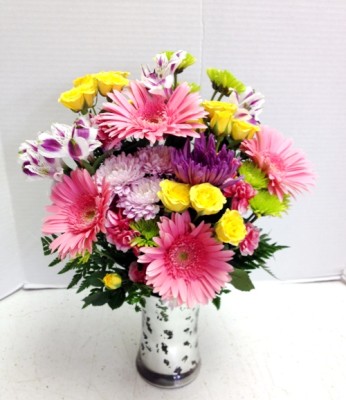 It's not political! Because we are a real florist, we can custom design your arrangements, including color choices, favorite flowers and more! You get to decide if you want your arrangement to be seen from one side or all the way around. The more information you know (including how and where the flowers will be used) the better we can help you make the right decision and custom design the arrangement just for you!
Which way do you prefer?
Tina & Pamela
602-246-1271