Description
Santa's Gift Basket
If Santa's your man, this this gift basket is perfect for you! It's not like anything you'll see at a Big Box Store! It's designed exclusively for you with terrific Santas, including chocolates, Coffee, a Santa hat and more. You won't see anything like this at the Big Box Store, and it can be designed and shipped across the country in time for Christmas!
ORDER HOW!! Santa's working overtime to make sure your gift baskets arrive in time to be enjoyed for Christmas!
Here's a picture of Santa's Gift Basket all wrapped up and ready to be delivered!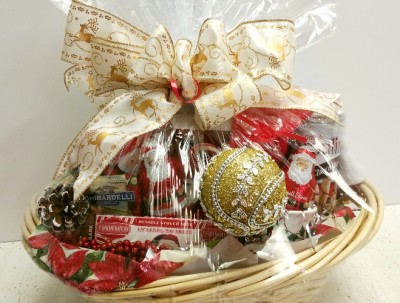 Have you read about Tina's hand made bows?
You might prefer celebrating Snoopy's Birthday or a beautiful Christmas Centerpiece.