Description
3 To Go
Imagine having the choice of three amazing floral arrangements, each a little different, each a little special, each custom designed, each delivered and each ready to go!
Well, that's what you get when you choose one of our 3 To Go floral arrangements! That means they are ready, willing and able to leave the shop with you if you walk in (we LOVE walk in traffic) or they're ready to be delivered for you if you shop here on the Internet.
Either way, you win, win, win!
3 To Go, designed in red, lavender and pink
or
yellow and white
or
orange and yellow!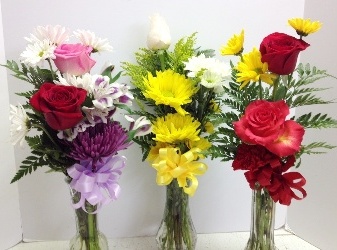 Each one is a perfect floral arrangement for a birthday, an anniversary, for a baby, for a new home. They're great for a party or an event, or as a thank you. Even for Secretary's Day or Boss's Day.
Here's a picture of Patrice as she left our shop with one of our 3 To Go floral arrangements! Isn't she pretty?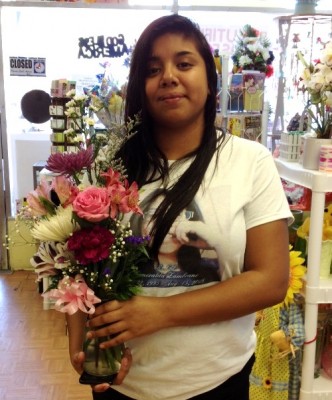 You tell us if you want the one on the left, the middle or the right when you place your order and we'll custom design and deliver  a 3 To Go just for you!