Description
Baby Gift Basket a'la Tina
What separates this baby gift basket from all other baby gift baskets? Is the hand made baby afghan that I'm calling Afghan a'la Tina!
The Afghan a'la Tina is perfect for a newborn. It's soft. It's baby-sized. It's all of the baby colors (pink, blue, yellow, green and white) and it's the perfect addition to your baby gift basket. This Afghan a'la Tina will be appreciated and used for years and years!
The gift basket is filled with baby things like a baby bottle, baby cloth, baby onesie, baby toys, baby rattle.
This gift basket can be shipped across the country! It's perfect for a baby shower gift or a to welcome a newborn.
Show the family how much you love that little baby with a Baby Gift Basket a'la Tina!
By the way, here's a picture of it all wrapped up and ready to go!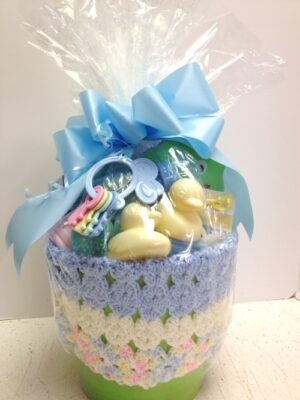 Don't forget to let me know if it's a boy or a girl!