Description
Art Deco
We designed this Art Deco floral arrangement at the request of one of our long-time customers.  Gee, I even have her picture! This is Jessica holding the flowers she ordered for her mother's 70th birthday!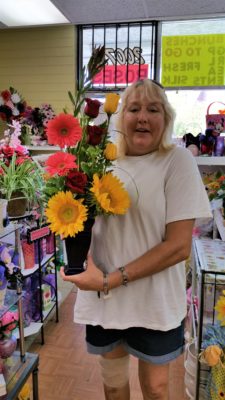 Jessica chose the purple vase (it's very deco-looking) from our large selection of glass and ceramic containers. Then she let me have fun designing the flowers. Her only request was "bright".
Knowing her request was for contemporary looking flowers, I decided the best way to design this was linear, and since she requested "bright" I chose sunflowers, gerbera daisies, and 2 colors of roses.
If you order this Art Deco arrangement, the flowers will be design this way but the colors might change. Either way, I promise you'll be as excited as Jessica was when she came to pick up the flowers!
We have other options available for you, too! Here's my favorite Linear Arrangement  although in all fairness this one might be my new favorite!
Check our our 3 linear roses or our Contemporary Pink Roses.
You'll be happy when you order this Art Deco floral arrangement designed by Roadrunner Florist!