We wish to THANK YOU for your friendship, loyalty, business and for shopping LOCAL this Valentine's Day! You know who you are… you ordered from your LOCAL FLOWER SHOP and the flowers were delivered on a timely manner, in a vase with water, beautifully arranged!
We know who you are, too! You are our customers and friends! You visited our website and ordered online (about 50% of our orders came in through the Internet this year) or called and spoke with me in person. A lot of you were on our website and called anyway, which is really wonderful!  Some of you even walked in the door and we had the pleasure of meeting you personally!
You are the best, and we sincerely appreciate you!
As our gift to you, we are offering this very special discount on your next order!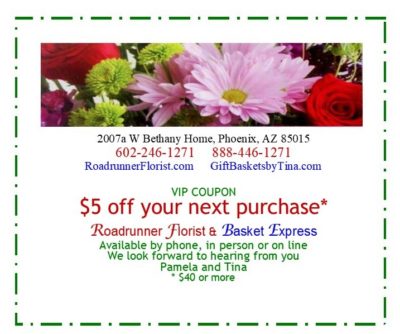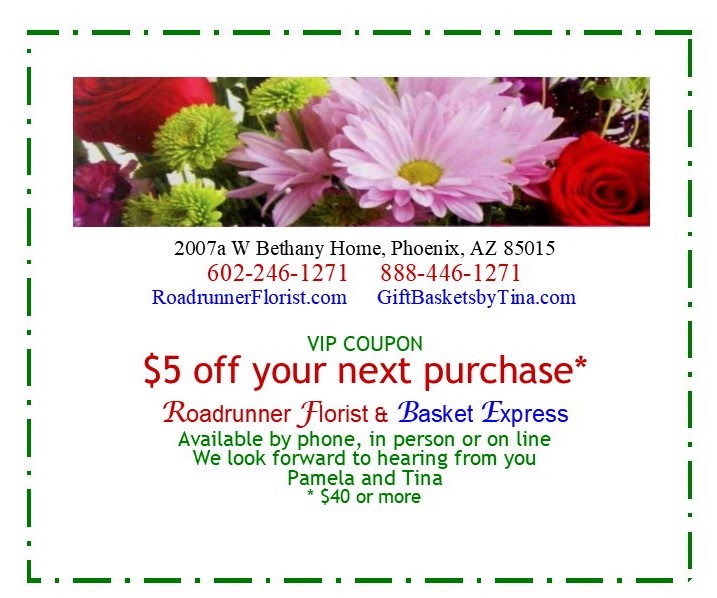 We welcome you to the magic of Roadrunner Florist & Basket Express and we love hearing from you! Please feel free to visit our Google page, Yelp page, or Facebook page or Basket Express Yelp Page  and leave us a glowing 5 Star review! That's how people like you find people like us!
Pamela and Tina
2007 W Bethany Home, Phoenix, AZ 85015
602-246-1271