The Winner Is..
Thanks to everyone who offered a name for this fun floral arrangement! We've chosen a winner! Is it you?
It is if your name is Elaine, and you're one of my best friends.
It is if you're no longer living in Phoenix but you're back in the cold country (with your family) and we miss you A LOT.
Without further ado:  meet SPROUTING HAPPINESS!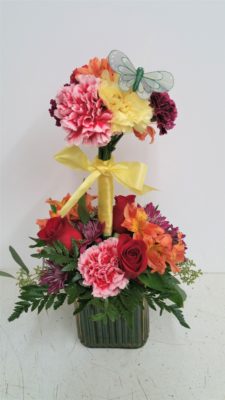 A masculine version of the Flying Butterfly, this custom designed floral arrangement is perfect for the man in your life. Designed with carnations, alstroemeria and red roses, you'll find this is a great arrangement for a table or desk.  Perfect for Boss's Day, Father's Day, Grandparent's Day, Graduation, Get Well or a Birthday, we know this is the perfect sentiment for you.
We want to thank all of you who participated in the Help! We Need a Name Contest. It's wonderful to have so many friends who think well enough of us to join in the fun and have a floral arrangement named by you.
Pamela and Tina
2007a W Bethany Home
Phoenix, AZ 85015
602-246-1271