A Christmas Thank You to all of our customers and friends who have supported your Local Flower Shop throughout the year. We love talking to you on the phone! We love when you place orders on line www.roadrunnerflorist.com and we love the positive comments you leave for us on Google and Yelp.
We know our success depends on you, and for more than 38 years in the Valley of the Sun, award-winning Pamela E Smith, Michigan State University Floriculture Graduate, has been designing amazing floral creations just for you! Published author Tina Ashburn of Basket Express, our gift basket store located inside Roadrunner Florist, has been designing unique one-of-a-kind gift baskets for all occasions for 18 years! As it says on her unique website www.giftbasketsbytina.com, "we must be doing something right!"
It's always a pleasure to share with you the photos and comments we receive from our customers. Here are just  few that were sent to us this past week as we shared Christmas with all of you.
From Ruth Barter, who was in tears: "I've never seen a more beautiful arrangement than the one you sent from my sister." My reply, "Thank you so much! Don't forget to tell your sister!" "Oh!", she said, "I already did!"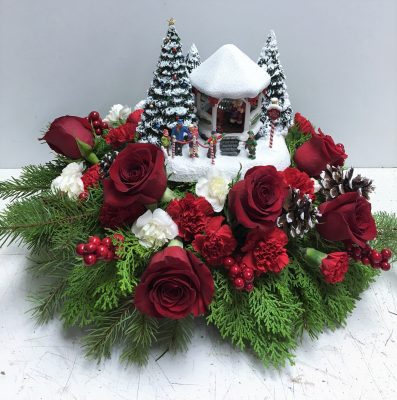 Andrew found us and wanted a gift basket for a White Elephant Gift Exchange. He gave Tina a dollar amount and then asked her to put together a pretty Holiday Gift Basket that would be "fun".  Here he is, when he picked it up! He actually said he wondered if there were a way he could "get it back himself" because he liked it so much!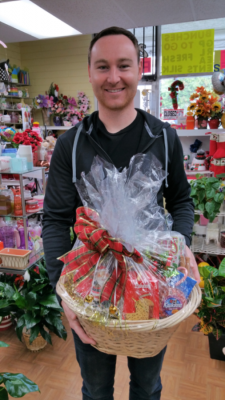 These 2 centerpieces are my favorites. The first one was delivered to a family near the flower shop for the holiday table. The sender is from Washington, and I know she was coming down to celebrate Christmas with her family. She asked for a large, warm, festive decoration for the holiday table, and Pamela nailed it!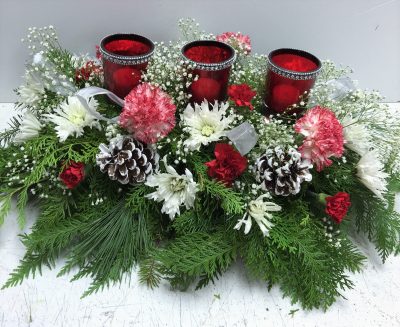 The second one was a special request for silver and white.   I love the reindeer!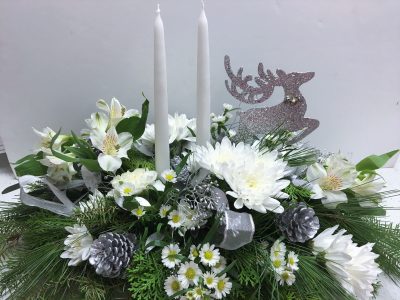 Christmas is a time for people to send flowers to their friends and loved ones near and far, and it's also a time for businesses to say Thank You to their customers throughout the year. This year we heard from realtors, dentists, doctors, lawyers, miners, architects, engineers and accountants. Here are a few examples of the gift baskets we designed this year.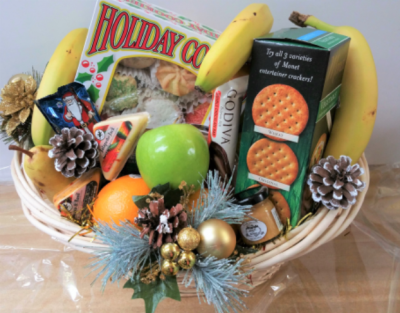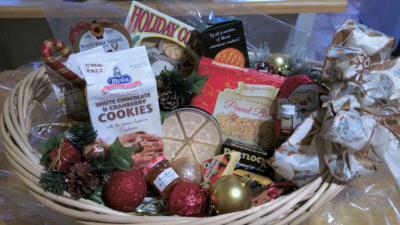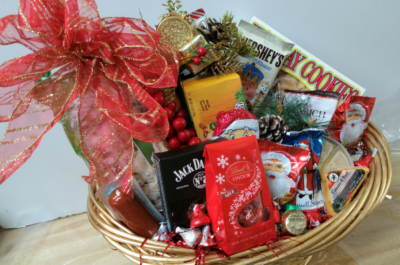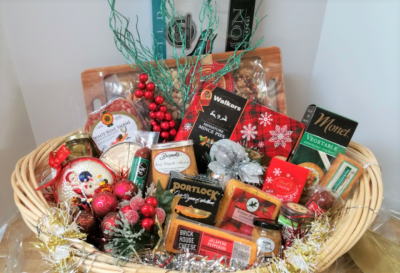 We are thankful that you ask us to design unique floral arrangements for Christmas.
Many people ask us to add angels to their floral arrangement.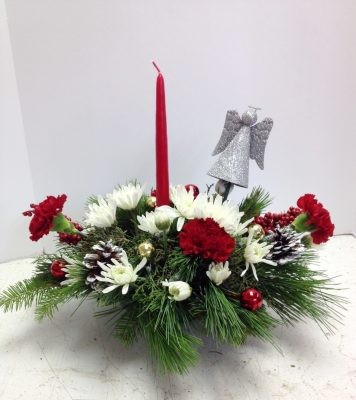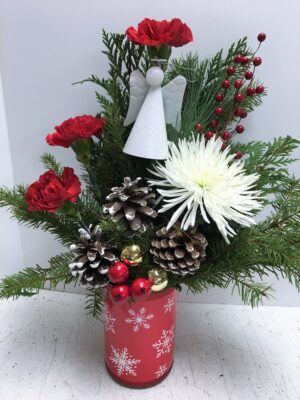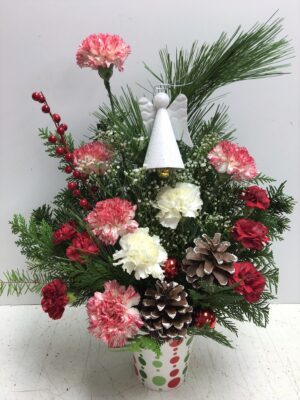 Silver and Gold add extra sparkle for the holiday!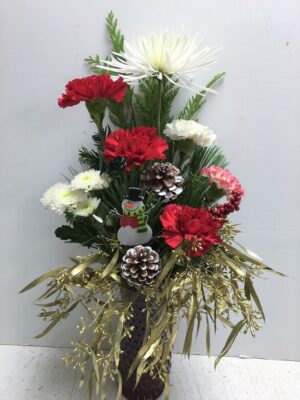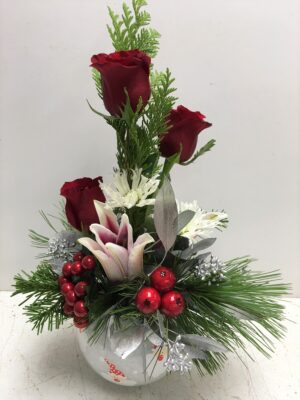 Here are some more examples of the custom designed floral arrangements we sent out this year! We hope you're enjoying seeing the different styles of flowers, all with the fragrant aroma of holiday greenery.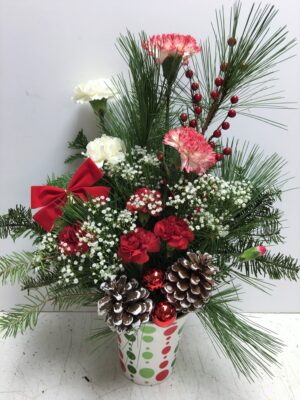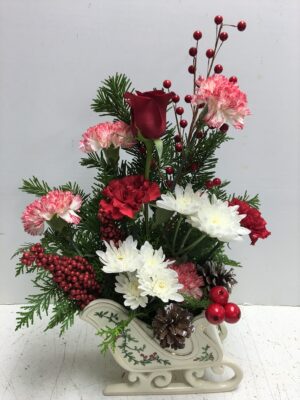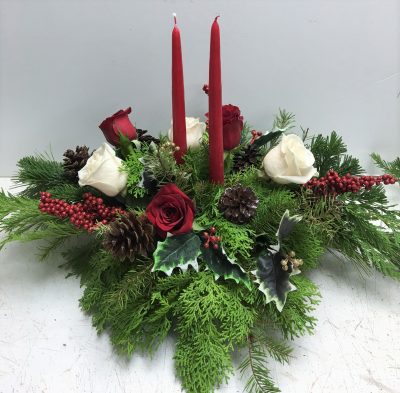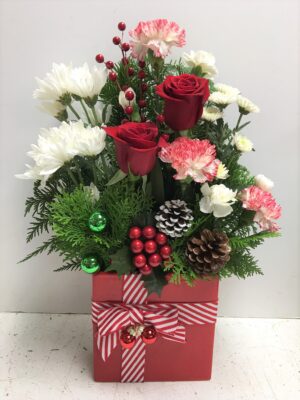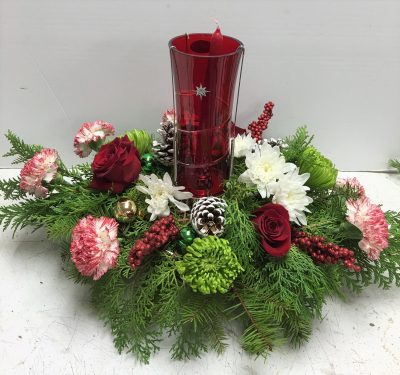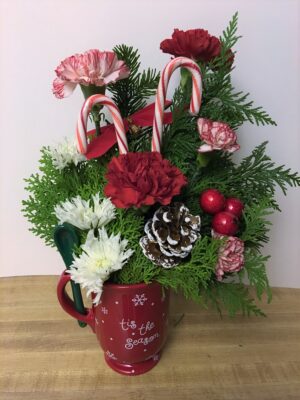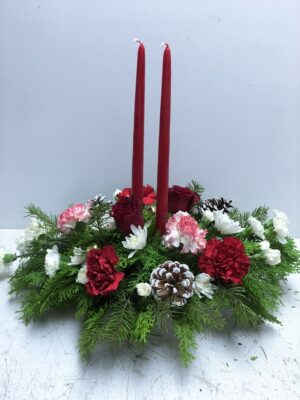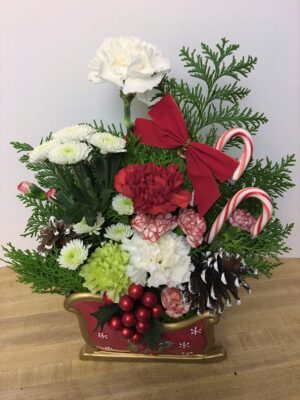 And then there's the purity of white!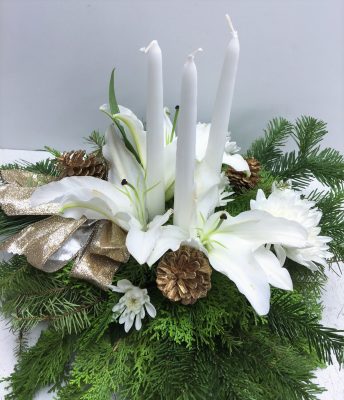 As busy as we were for Christmas, there's always time to say THANK YOU to you, our local customers and friends. Without you we wouldn't be here, designing and delivering your unique gifts all year long. We appreciate you and we look forward to hearing from you soon!
May you be blessed with a happy, healthy and bountiful 2017!
Tina and Pamela
Roadrunner Florist
Basket Express