Email or Text
I love when people communicate with me through email or text.  Sometimes there are questions, or extra special items that make an order  "just right" or "unique" for the sender and recipient, and they need to talk to me about it. We have all discovered that texting is non-invasive, and email is appropriate all the time, too.  I text or email pictures of floral arrangements and gift baskets almost every day! It's the new way to communicate and it seems to work!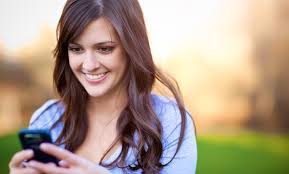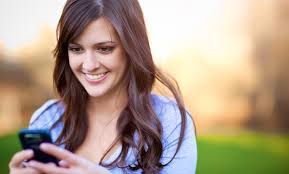 OK, first of all, my text phone number.  602-663-2537.  Our email address(s) are on the order form, so if you have a question about an order (before or after) you can use either one of those. [email protected] or [email protected]
I'd like to share with you a line of email communication that will show you how it works!
Tina:  Good morning Andrea, and thanks for ordering flowers on our website.  We are happy to design and deliver the flowers for you tomorrow.
Andrea: Hi Tina,   Thanks. If you add a bow, jute or straw would be my preference please.  Lastly, will you be able to use an orange butterfly as opposed to the bird?  If not, a yellow bird would be great. Thanks so much and sorry to be such a pain!  I can't wait to see a picture once she receives them! 🤗 Best, Andrea
Tina: You betcha, an orange butterfly will fly into the flowers tomorrow!! You are not a pain! The Internet is a pain!!! Thanks again,  Tina
Andrea: Thank you again!!!!  Trying to send her some of this NH fall flora and fauna through you!  😊 🌻🍁
Tina: Good morning!!  I have called her to schedule the delivery (for this morning) and the phone number goes to someone else!!  So I called and texted you (only to find it's your husband's number) asking for a better phone number!!  So, here's the email to you…. please send me a better phone number for her!! We want to make sure someone will be home this morning to accept the flowers. I have 602-*** **** Oh, yes, the arrangement is completed.  I'll send a Sneak Peak in a few minutes!  Thanks, Tina
Andrea: Oooops, must have been a typo!!! ‭(602) *** ****
Tina: PICTURE!!!  The flowers are on their way!!  Thanks again!! Tina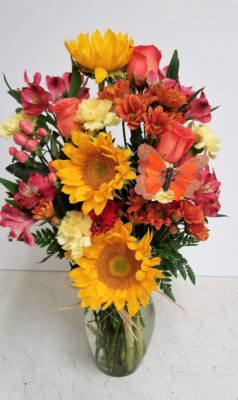 Andrea: She looks pleased!  Thank you! 😊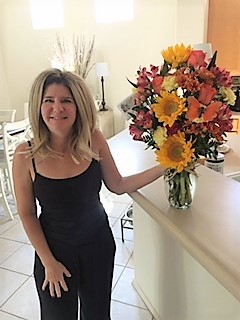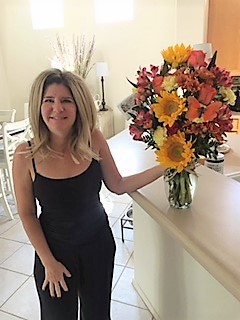 Tina: She's BEAUTIFUL!! Thanks so much!!
Andrea: As is the arrangement, just gorgeous!  Thank you thank you thank you!!!!
Tina: You're so very welcome!  Would you please go back to Google or Yelp and give us a 5 star review?  That's how people like you find people like us! Thanks again,Tina
Andrea: Absolutely!
And so it goes!! If there are special instructions or ideas you have to make your arrangement UNIQUE, we will be happy to accommodate you! Simply text or email!  We always call (or text) before delivery to make sure someone will be there to accept the flowers, and yes, we send you a picture when we can! Then, if you would be so kind, please return to Google or Yelp and give us a 5 star review! That's how people like you find people like us!
I'll admit, I still LOVE the old-fashioned method of communication: TELEPHONE! That way I get to hear your voice, talk to you about your preferences, your family and the news! But if you're a texter or emailer, please feel free to communicate with us this way, too.
Whatever line of communication you choose, we look forward to hearing from you!!
Tina & Pamela
Roadrunner Florist & Basket Express
Phoenix, AZ  602-246-1271