Etiquette:
Sending Get Well Flowers
to a Patient in the Hospital
People have a lot of questions about sending get well flowers to a patient in the hospital. We are here to help you answer those questions.
There are some basic misconceptions.
The first one is this: Do people really want to get flowers when they're in the hospital?
The answer is YES, people LOVE to receive flowers in the hospital. Why? Because flowers are cheerful and bright and always help get rid of the dreariness of a hospital room. Just like green plants, they help clean the air and help dissipate odors in the hospital.
We have a very good friend who is in the floral industry. Marcia works at one of our local wholesalers, and she recently had back surgery. We went to visit her in the rehab facility and we took flowers! They were the only flowers in her room (how sad) and they were so cheerful! She could hardly believe the power of those flowers and how great it made her feel! One vase of flowers brought a smile to her face! We named this arrangement Marcia's Florals, and you can see why these flowers were so cheerful for her!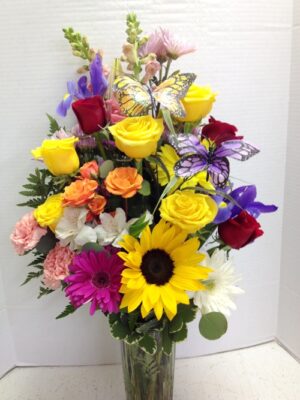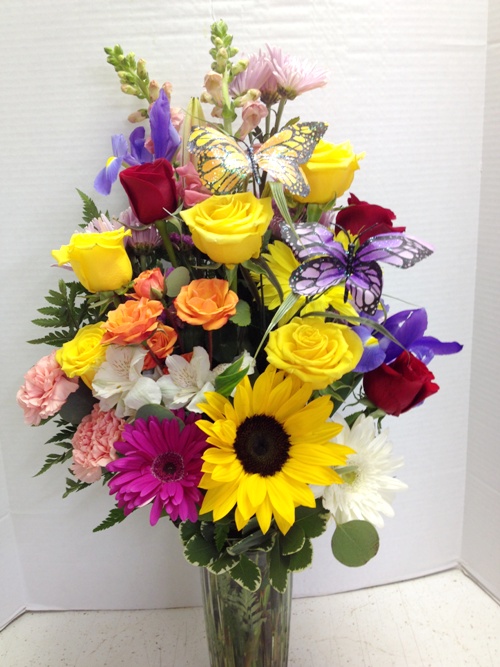 The next misconception is the importance of a container.
Many hospitals do not have a container to put the flowers (unless you want to use a plastic cup) to it is important to make sure the flowers you send are in a container. Some hospitals insist on plastic (as opposed to glass) which is why you should always deal with a REAL FLOWER SHOP who understands each hospital's rules and knows what is acceptable and what is not.
There are times flowers are not permitted in a hospital.
If the patient is in the ICU, no flowers are allowed in the unit. Once again, your REAL FLOWER SHOP will know if this rule applies or not. If no flowers are allowed, they we suggest you send either silk flowers or a gift basket.
Can you tell the difference between the silk flowers and the fresh?
Gift baskets loaded with chocolates, muffins, snacks, fresh fruit or veggies, topped with stuffed animals and balloons are always welcome in a hospital. If the patient is on a restricted diet, he often shares his goodies with his nursing staff. Here are a few ideas that are always welcome in a hospital.
Flowers always wish a person GET WELL SOON!
What do you think?
Contact us for the best selection of fresh flowers, same-day delivery and great customer service!
Tina and Pamela
Roadrunner Florist
602-246-1271
888-446-1271