Here's Your Hawaiian Vacation, a'la Roadrunner Florist!
What does that mean? It means when you open this email you'll feel like you're on a Hawaiian Vacation!
OK, I'll admit it, Hawaii is one beautiful place!! Pamela was there about 40 years ago and it's been over 30 since I was there, but each of us remembers the cool breezes, the stunning sunsets, the clear water and the fragrances! Oh, my yes, the fragrances of Hawaii. And the Flowers!
THE HAWAIIAN FLOWERS!
So, since we're not in Hawaii, we do our best to pretend by bringing tropical and Hawaiian flowers into the flower shop 3 times a week! Yes, our cooler is always filled with stunning flowers that you'd see on your tropical paradise vacation.
Here are some great examples of Hawaiian and Tropical flowers we can design and deliver for you.   Happy Hawaiian Mix   or our Hawaiian Paradise bouquet.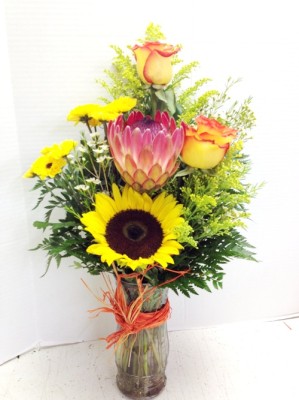 Perhaps you'd prefer our Tropical Beauties  or Marvelous Tropicals.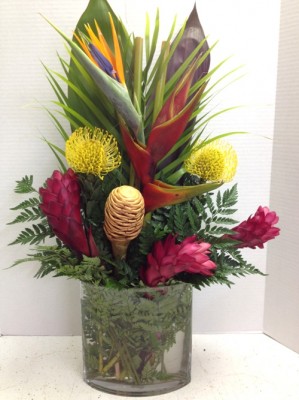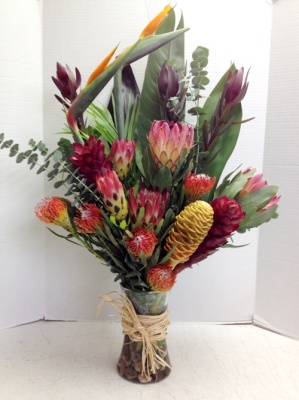 Now that you're getting the idea, tropics, let's see if we can FEEL some more vacation! How about our Hawaiian Sunrise Bouquet or our Long Lasting Love.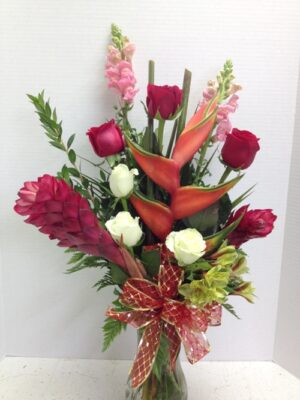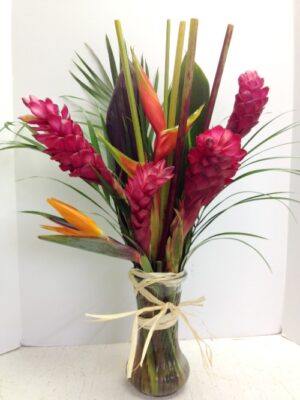 As you can tell, each arrangement is different. That's because we never know what's going to come into the shop!  Every time we open a package of flowers from Hawaii it's like Christmas!
That means when you order tropical flowers you get something "similar" to what you see, but not exactly. It also means the flowers are fresh, fresh, fresh, and long-lasting. It also means you won't be disappointed (and we know that because we never are!!)
So, when you're ready to pretend that you're on the warm beach, with your toes in the sand, and the water is clear and beautiful… when you're ready to pretend you can actually "feel" the sights and sounds of the 50th state, then let us design and deliver a Tropical and Hawaiian floral arrangement for you!
Enjoy your Hawaiian Vacation!
Tina & Pamela
Roadrunner Florist