It's beginning to look a lot like Christmas! Cue the rockin' around the Christmas tree, kissing under the mistletoe and indulging in all things joyful and bright. Fill your spaces with red, green and white blooms for a welcoming touch of Christmas cheer. Flowers brighten any occasion, and Roadrunner Florist is here to bring you the best flowers for Christmas. Embrace the holiday spirit with these festive blooms.
Here's a Basket of Christmas Cheer.  So much fun and a festive way to celebrate the holiday!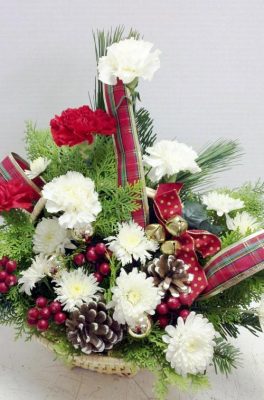 This is our Double the Christmas Cheer centerpiece.  It's festive, bright, and loaded with cheer!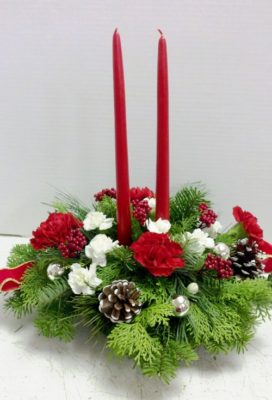 I love A Country Christmas. It's designed in a beautiful Laura Ashley vase, a bit rustic, a bit country, a bit of fun, and a lot Christmas!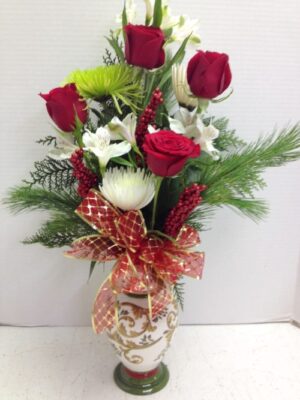 Here's Santa's Gift Basket! No, it's not too late to order gift baskets from Basket Express.  We're working away, designing unique, individual and stunning gift baskets for you!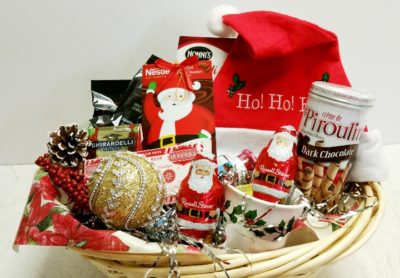 You may not immediately think red roses for Christmas but they are actually a festive flower that brightens the holiday season. The red rose traditionally means love, but some believe it represents the blood of Christ during the Christmas season.
Red roses and lilies are perfect for Christmas. They show her just how special she really is at this special time of year.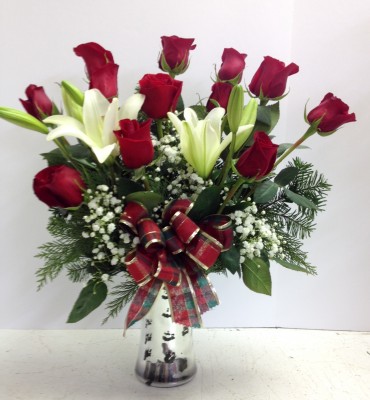 White roses symbolize purity and peace, adding a gentle touch of winter elegance to your holiday decor. Pamela designs this stunning centerpiece with white roses and white candles to signify the purity of the holiday.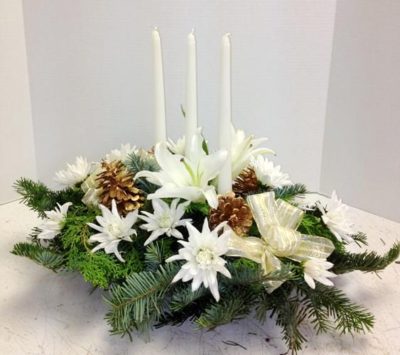 While these are some of the top flowers for Christmas, any type you choose will add a festive touch to your home! Send them to yourself, friends, and family members for a touching gift this year that is different from all the rest!
Call, click or come by! We look forward to hearing from you!
Pamela and Tina
602-246-1271
2007 W Bethany Home,
Phoenix, AZ 85015