We know you're not thinking about Valentine's Day (it's still 28 days away) but we are! 
You know we'll have roses for you, or roses, or roses, whichever you prefer.
And you know we'll deliver them for you. But did you know we work on a first-come, first-served delivery schedule on the 14th of February? Did you know we cut off our delivery areas when the delivery runs are full? BE PRE-WARNED and ORDER NOW!

That means you need to be thinking about Valentine's Day NOW!
OMG, it's so far away… but it's really not! It's not a time to procrastinate because, well, the "surprise" is she doesn't get her roses (wouldn't that be awful!)  
You have options, and the best one is to call, click or come by NOW to your local flower shop and order the roses! Once the order is in the queue, then you just sit back and relax! We'll work our magic and you'll look good!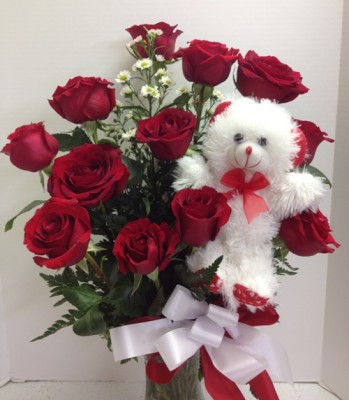 One of our best sellers! Red roses and a Teddy Bear
Don't forget the most romantic day of the year! Valentine's Day is ALWAYS on the 14th of February!
We look forward to hearing from you!
Pamela and Tina
602-246-1271