Description
Flowers that Guarantee a WOW!
When we say Flowers that Guarantee a WOW!, we mean it!
Pamela designed these stunning flowers for a very special customer. Her request was Sunflowers. Period. So here you have it: sunflowers!
Adding a bit of color insures the sunflowers POP out of the vase! (well, not literally, of course, but they look like they are!). They need a little bit of help to show how beautiful they are, and they received it when Pamela designed this arrangement!
Let her add a little bit of orange and WOW! These flowers definitely guarantee a WOW!
Sunflowers are popular and we have many options for you. We  have Fresh Fruit and Sunflowers for the person who likes to eat! We have Happy Sunflowers, 5 Sunny Sunflowers and 6 Sunny Sunflowers.
We can even custom design an arrangement for you! Here's Daniel, who called and asked for 6 sunflowers and 6 roses. He picked these up this morning!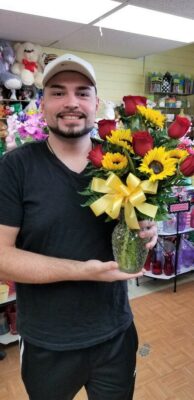 When you call a real, local flower shop, you have the option to decide exactly what you'd like to send. There are so many reasons to call us, and Daniel is just one of them! Choosing Roadrunner is a great idea! Let Pamela design Flowers that Guarantee a WOW!