Description
Happy Grab and Go
What is a Happy Grab and Go and what makes it different from the other options available from Basket Express?
This great gift basket is, well, HAPPY!!  That means we take our great G&G gift basket and we add a HAPPY Muffin or a HAPPY face or even a HAPPY container! Something that will definitely make the recipient HAPPY!
Our G&G Gift Basket is a terrific  gift basket with fresh, seasonal fruit, assorted cookies and fresh muffins. Perfect for a doctor's office, your accountant, your lawyer or your hairdresser. If you're looking for the perfect Thank You gift, or a Christmas present, for a great housewarming gift, for a teacher or a congratulations, our Grab and Go gift basket is the way to go!
Fresh fruit is hand-selected each morning and varies from season to season. The cookies are baked at a local bakery and might be chocolate chips, peanut butter, M&Ms or other great varieties. The muffins are baked fresh and we choose from blueberry, chocolate, cinnamon or other options available to us on a daily basis.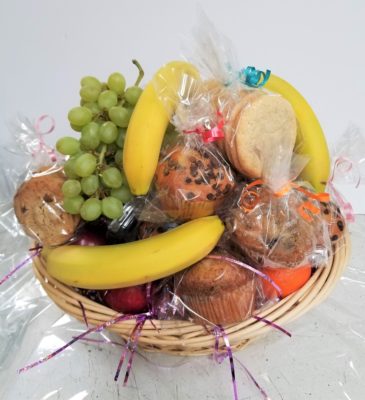 People often ask me what the difference is between our Grab and Go gift basket and our G&G Extraordinaire gift basket. Well, let me tell you! It's the number of pieces of fruit, the number of muffins and the number of cookies!
If you're feeding a crowd, like an office or a group of nurses, or you want to say Thank You for your Hospitality, then you certainly want to consider this extraordinaire grab and go gift basket! It's one that says The More The Merrier!
Loaded with fresh fruit of the season, which Tina hand selects every morning, the muffins and cookies are chosen from the local bakery and added to this terrific gift basket.
The G&G for Christmas is festively decorated for the holiday, we'll add garlands and other fancy adornments to apples, pears, oranges, bananas and other fresh fruit, along with muffins, cookies and more. Perfect for a group of 10 or more, we can design this smaller if you choose.  Call us if you'd like this at $50, $75, $100 or $125 and we'll be happy to accommodate you.
When you order one of our G&G Gift baskets, you know you are not only sending the freshest fruit, muffins, cookies and more, but you are absolutely guaranteed to make the lucky recipient happy!
All of our custom designed gifts arrive in a beautiful decorative gift box or basket.