Why Thanksgiving? Because my mother says it's the holiday we seem to forget!  So, we thought we'd  take a minute to remind you about the joys of Thanksgiving! Lost somewhere after Halloween and before Christmas is Thanksgiving, a day that we set aside to be grateful for all that we have. No matter how you celebrate, from turkey to tacos, from football inside to soccer outside, it's a great holiday that is somehow left out of the holiday season!
It's no secret that my favorite of all floral arrangements for Thanksgiving is the Cornucopia.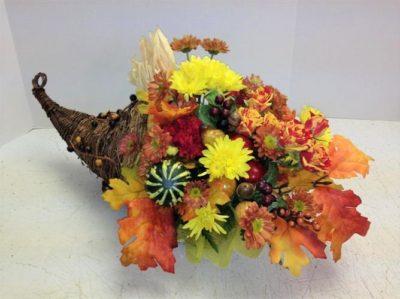 The History of the Cornucopia is derived from the Latin "cornu" meaning horn, and "copia" meaning plenty, the cornucopia has long been used as a common harvest symbol associated with a plentiful bounty. Historically, a real goat's horn, filled with fruits and grains, was depicted at the center of lavish tables of food.
Today's Cornucopia is filled with fresh flowers of the season as well as leaves and berries. It's the perfect Thanksgiving centerpiece for your table!
As you are ordering your Christmas gift baskets and your Christmas flowers, remember there are still opportunities to celebrate the changing of the season and this beautiful time of year.
Our Rhymes with Orange is a great reminder that it's still fall! Perfect for an autumn birthday, a baby or anniversary, another great option is the Yellow Fellow.  Both are reminders of the change of season, the joys of autumn and the briskness in the air!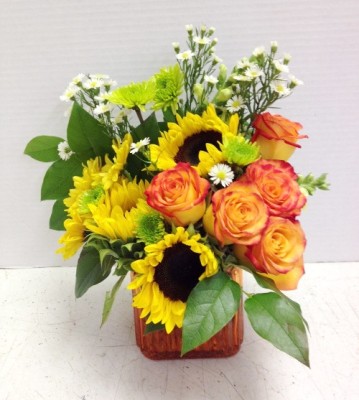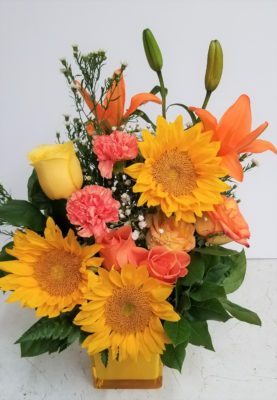 A best seller for this time of year is called Amazing Fall Flowers.  Along with Fall into Autumn (because I didn't want to name it Fall into Fall!!!) your season is covered no matter what the occasion!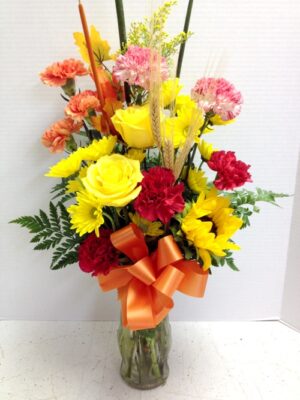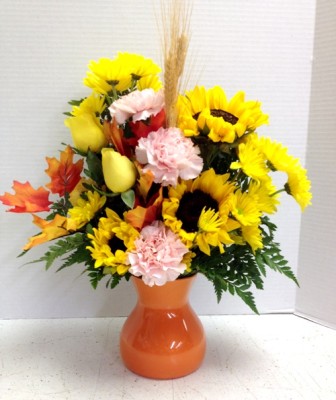 Millions of people will be travelling this Thanksgiving.  Send flowers to your loved ones whether near or far so they'll know you're thankful for them!
We know you celebrate Thanksgiving because we do, too! If you also have a birthday, an anniversary, a baby, a new home, a new job or a reason to say Thank You, then consider autumn flowers from Roadrunner Florist!
We look forward to hearing from you!
Pamela and Tina
Roadrunner Florist
602-246-1271
2007 W Bethany Home, Phoenix, AZ 85015